9.2 Waiari Kaitiaki Advisory Group Update May 2023
File Number: A14737846
Author: Peter Bahrs, Manager: Water Services
Authoriser: Nic Johansson, General Manager: Infrastructure
Purpose of the Report
1. To update the Waiāri Kaitiaki Advisory Group on stream flows, abstraction flows and other related information.
That the Waiāri Kaitiaki Advisory Group:
(a) Receives the report "Waiari Kaitiaki Advisory Group Update May 2023".
waiāri stream flow data
2. The Waiāri stream flows are now being logged and reported by TCC as of January 2023. The maximum flows have been omitted from the first graph to allow better definition of the monthly average and minimum flows.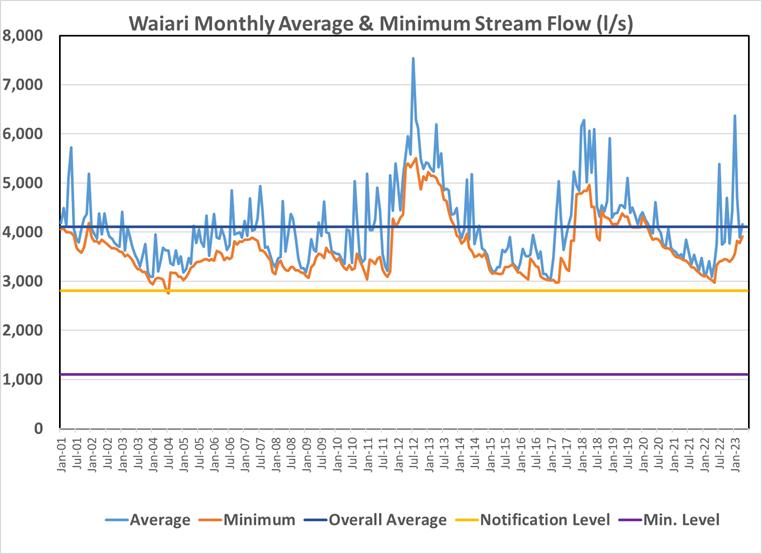 3. Overall, the stream flows have improved with both average and minimum flows increasing however some of this is likely to be surface runoff resulting from the ongoing rainfall. The true baseline flow can only be established once a longer dry period is experienced.
4. There has been significant rainfall over the ten-month period July 2022 to April 2023, with about 2,255 mm of rain recorded.
5. The graph below shows the Waiāri stream flows over the period 27 to 29 January 2023. This has been included to show the significant flow event associated with the rainfall over the Auckland long weekend.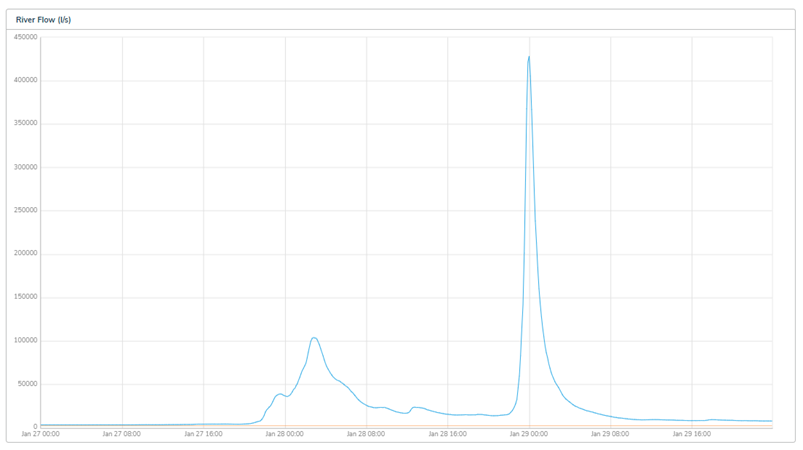 6. The maximum flow on the graph shows more than 428,000 l/s which is significantly more than any previous maximum flow (101,270 l/s in 2022) and is the highest on record over the period of monitoring since 2001.
7. The following graph shows the water abstracted during the period December 2022 to the 23 May 2023 for water supply purposes. Waiāri water abstraction to supply the city as part of the wider commissioning process, commenced on 14 December 2022.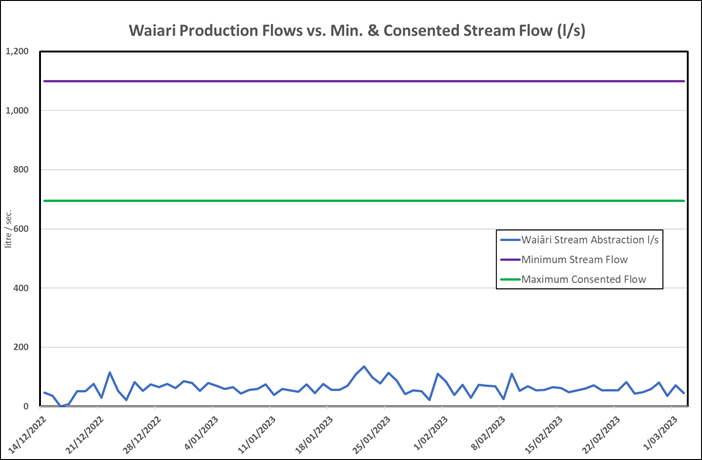 Waiāri Ecological Monitoring
8. Due to the significant rainfall events in January and February, the annual monitoring of the stream health by 4Sight was delayed until March to give the aquatic invertebrate communities, that have been washed off / disturbed, time to settle back and re-establish themselves. This is standard best practice to wait after a flood event for communities to re-establish. The results of the survey will be reported at the next WKAG meeting.
Waiāri Aerial Catchment Survey
9. A separate report on the survey was emailed to the Waiāri Kaitiaki Advisory Group on the 10 May 2023 which provided an overview of the aerial survey undertaken which indicated that about 13 slips had been noted upstream of the intake works. The report also referenced photos which were available to be downloaded via the link.
Next Steps
10. That the Waiāri Kaitiaki Advisory Group receive, provide any feedback and accept the report.